Alberta Native Plant Council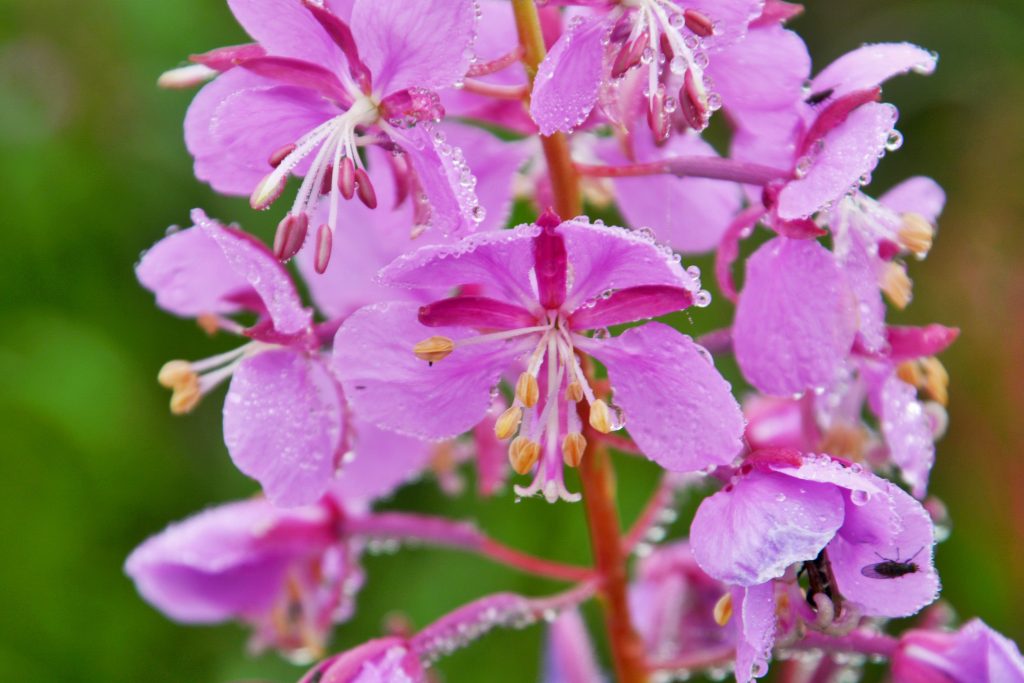 Common Fireweed by Marsha Hayward
The Alberta Native Plant Council Society (ANPC) is a grassroots group of dedicated plant enthusiasts who have supported the conservation of native plants and native plant habitat in Alberta since 1988. Our motto is "Sharing Knowledge, Supporting Conservation." We provide outreach, publications, guidelines, stewardship, advocacy, and funding, while also implementing and supporting native plant initiatives.
Books published by ANPC include Wildflowers of Whitehorse Wildland Provincial Park and Rare Vascular Plants of Alberta, the second edition of which is currently being edited for publication. We have produced Fact Sheets on topics such as Growing Native Plants from Seeds, Rare Plants of Alberta, and Weeds in Alberta. We have created guidelines for conducting rare vascular plant surveys, conducting plant rescues, purchasing and using wildflower seed mixes, and many others. Visit our website, anpc.ab.ca, to find a list of our publications as well as a detailed native plant source list and lists of vascular and non-vascular plants of Alberta. 
ANPC has formed several plant study groups throughout the province. When pandemic restrictions prevented study groups from meeting in person, ANPC hosted a biweekly webinar series. These webinars were open to everyone, and recordings of these webinars are currently available on the members-only page of our website. Additionally, ANPC volunteers host an annual Botany Alberta event. This year it is at Clyde Fen and Homes Crossing Ecological Reserve on August 6–8.
ANPC acts as environmental stewards at four important sites in Alberta. The Whitehorse Wildland Park is located southeast of Hinton and is representative of the Northern Front Ranges of the Rocky Mountain Region. The park is home to a wide range of alpine and subalpine plants and wildlife. Big Sagebrush Candidate Natural Area is located in the southwest corner of Alberta, along the east side of the southern Castle River valley between Waterton Lakes National Park and the hamlet of Beaver Mines. This area is named after the presence of Big Sagebrush (Artemisia tridentata), a provincially rare plant that thrives in this natural area. Clyde Fen Candidate Natural Area is located near the village of Clyde, in the Dry Mixedwood Boreal Forest Natural Region. This area is home to several insectivorous plants and important bird species. Annual inspections of Clyde Fen have been part of Nature Alberta's May Species Count in most years since 1995. Nisku Native Prairie Park Reserve is located within Leduc County, east of the Nisku Industrial Area and south of Secondary Highway 625. The area consists of aspen groves interspersed with grasslands, and 140 species of plants have been recorded here.
ANPC membership is open to everyone. Membership includes a subscription to the Iris newsletter, monthly information emails, and the opportunity to learn about Alberta's native plants with other like-minded supporters. To find out more about ANPC or to become a member, please visit our website at anpc.ab.ca.
Coleen Mahoney is the editor of the ANPC newsletter, Iris.
This article originally ran in Nature Alberta Magazine - Summer 2021