Annual Winter Bug Count
December 2020 - February 2021
You're invited to participate! Simply log in or sign up in the iNature Website, go to the Annual Winter Bug Count section and get counting!
From bugs that hibernate in your basement, to those that go for walks on the snow, the Winter Bug Count for Alberta and Saskatchewan wants to know what you have found.  Now in its tenth year, the count is interested in all active arthropods are of interest, both indoors and out, on land and in the water.  The count is compiled by John Acorn, from observations submitted to various nature-oriented Facebook pages and email listservers.  Ideally, counters will make use of iNaturalist this winter, and post observations there, where they will be automatically entered into a project called Winter Bug Count.  Most years, we find about as many species as the birders do birds, from the beginning of December to the end of February.  Occasionally, we receive unexpected records, of rare species or species previously unknown from this region.  All are welcome to participate, and if you don't know your bugs, please post photos. Identifying the submissions keeps the bugsters busy during the winter months, and eventually we will know a great deal about our winter arthropod fauna.
Nature Alberta's 50th Anniversary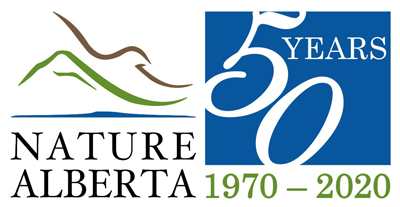 In celebration of Nature Alberta's 50th Anniversary year, through April 2021, Individual Nature Alberta Lifetime Memberships are only $10! Nature needs our help now more than ever — and there's never been a better time to show your support!

email: info@naturealberta.ca
phone: (780) 427-8124

mail: 3rd Floor, Percy Page Centre
11759 Groat Road
Edmonton, AB T5M 3K6
Nature Alberta is incorporated as the Federation of Alberta Naturalists under the Alberta Societies Act and is a registered charitable organization.
Registered Charity
#118913896 RR0001