Edmonton Nature Club Bird Study: Owl's of Alberta
Edmonton Nature Club Bird Study: Owl's of Alberta
Speaker: Sara Pearce Meijerink, Head Biologist and Geoff Holroyd, Chair, Beaverhill Bird Observatory
Eleven species of owls occur regularly in Alberta. In this presentation, Sara will talk about the variety of species, their ecology and habitats. Geoff will present the highlights of 20+years of satellite telemetry on three species of owls, describing their movements within and beyond Alberta's borders. BBO has been banding Northern Saw-whet Owls for almost 20 years and has many band recoveries that demonstrate the varied migrations of this species. This talk will go from general information to detailed life history of Alberta's owls. Geoff will add a few notes about other BBO-supported studies of Burrowing Owls in Mexico, Little Owls in Spain and Black-banded/Black-and-white Owls in Ecuador.
Join by emailing events@edmontonnatureclub.org
Nature Alberta's 50th Anniversary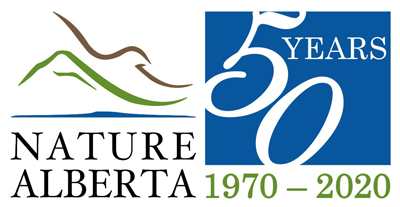 In celebration of Nature Alberta's 50th Anniversary year, through April 2021, Individual Nature Alberta Lifetime Memberships are only $10! Nature needs our help now more than ever — and there's never been a better time to show your support!

email: info@naturealberta.ca
phone: (780) 427-8124

mail: 3rd Floor, Percy Page Centre
11759 Groat Road
Edmonton, AB T5M 3K6
Nature Alberta is incorporated as the Federation of Alberta Naturalists under the Alberta Societies Act and is a registered charitable organization.
Registered Charity
#118913896 RR0001