Saving Jemima: Life and Love with a Hard-luck Jay
Saving Jemima: Life and Love with a Hard-luck Jay
Speaker: Julie Zickefoose, Renowned Artist, Author, & Naturalist
Naturalist/artist/writer Julie Zickefoose thinks of herself as an unsung, minor, rather dirty superhero. Her superpower: saving small, economically worthless wildlife that would otherwise die. An orphaned jay named Jemima was one such foundling. Spending nearly a year healing, studying and raising the young blue jay for release opened the door to their world for Julie. She began writing and illustrating Saving Jemima: Life and Love With a Hard-luck Jay immediately upon becoming her foster mother. More than a wildlife rehab story, it's the story of life, love and dealing with great loss; of finding grace and redemption in bonding with a wild bird.
Bio: Julie Zickefoose lives and works quietly on an 80-acre wildlife sanctuary in the backcountry of Whipple, Ohio. She is a prolific writer and painter and Contributing Editor to Bird Watcher's Digest. Natural Gardening for Birds, Letters from Eden, The Bluebird Effect, and Baby Birds: An Artist Looks Into the Nest are joined by Saving Jemima: Life and Love With a Hard-Luck Jay, the intimate story of how an orphaned bird can save a soul.
Please join the Edmonton Nature Club by clicking here.
Zoom Registration Link: https://us02web.zoom.us/meeting/register/tZAof-6pqjgtHtGwQKl-Na7w68LuCqhuBXgN
Nature Alberta's 50th Anniversary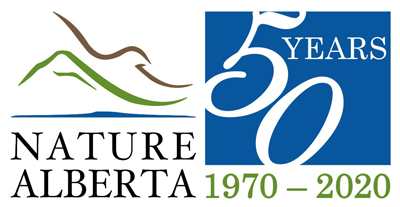 In celebration of Nature Alberta's 50th Anniversary year, through April 2021, Individual Nature Alberta Lifetime Memberships are only $10! Nature needs our help now more than ever — and there's never been a better time to show your support!

email: info@naturealberta.ca
phone: (780) 427-8124

mail: 3rd Floor, Percy Page Centre
11759 Groat Road
Edmonton, AB T5M 3K6
Nature Alberta is incorporated as the Federation of Alberta Naturalists under the Alberta Societies Act and is a registered charitable organization.
Registered Charity
#118913896 RR0001