Nature Alberta E-Auction!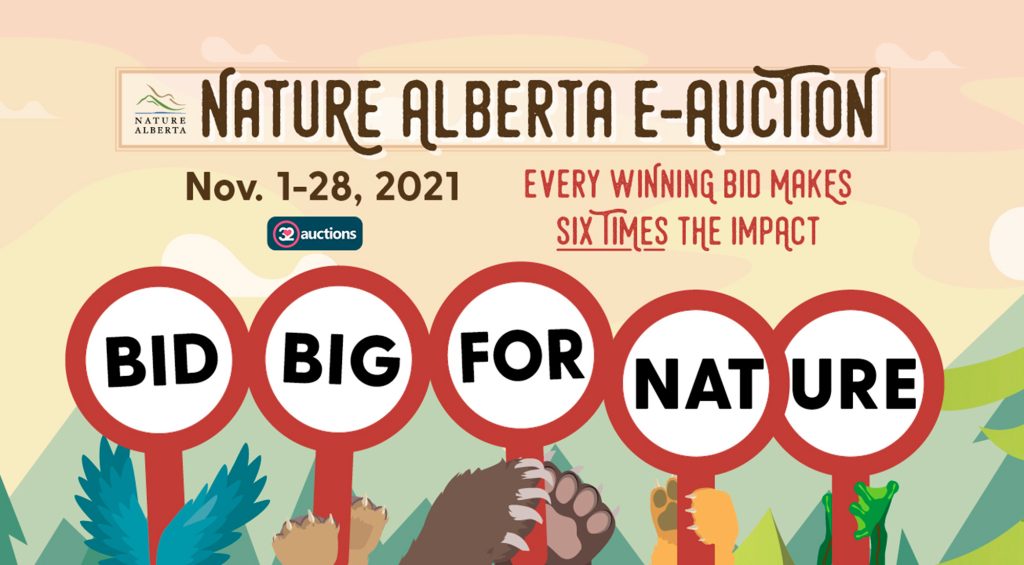 Nature Alberta E-Auction — November 2021 — SIX TIMES the Impact!
Presenting the first-ever Nature Alberta E-Auction! We've curated an array of items with nature lovers in mind! Beautiful artwork and décor, books, handy items for backyard naturalists… And get a load of the EXPERIENCES, too! How about a nature hike at Lu Carbyn Nature Sanctuary, guided by Lu Carbyn himself! Or a fully outfitted and guided eco-flyfishing float trip down the Bow River!
Check out everything at 32auctions.com/naturealberta! The auction runs November 1 to 28. This is a great opportunity to get some holiday shopping done early! You're sure to find something unique for the nature lovers on your list (especially if one of them is you)!
Here's why this event is such a BIG DEAL: All winning bids will be matched SIX TIMES and contributed to the Nature Alberta Endowment Fund! That's right — every dollar raised from this auction will be matched 6-to-1! Endowment Funds are invested and pay dividends year after year, giving us a stable, sustainable source of funding that we can rely on to keep our education and outreach work going long into the future. Your gift will truly keep on giving for years to come!
Bid early and often! Keep an eye on your favourite items throughout the month. And don't forget the "Buy Now" option you can use any time to secure your "must-haves!" You'll see lots of those set at $167 or $334 because when you multiply those amounts six times, it comes out to a $1,000 or $2,000 donation!
This is a truly amazing opportunity. Every dollar does SIX TIMES as much good… Every bid will make a BIG impact!
Thanks for your support of Nature Alberta — and HAVE FUN!