Nature Calgary Visual Content Producer
Nature Calgary Visual Content Producer
Position: Visual Content Producer
Organization: Nature Calgary (Calgary Field Naturalists' Society)
Location: Calgary Metropolitan Region
Nature Calgary encourages a diverse group of people to bring news ideas, skills, and enthusiasm that will help to reach new audiences. As a Content Producer for Nature Calgary, you will help to champion the preservation, conservation, and public's education of Calgary's natural history and biodiversity. The role entails working alongside the Events and Communications subcommittee to create promotional materials that will be used for Nature Calgary's social media, Nature News newsletter, website, presentations, and materials for in-person events.
Applicants should be creative and well versed in designing a variety of eye-catching materials for people of all ages. Skills may include photography, videography, writing, editing, designing presentations, and other visual arts. Familiarity with media platforms such as Facebook, Instagram, Twitter, YouTube, Mailchimp, Eventbrite, PowerPoint, etc. are highly desired. Occasionally the Content Producer may be asked to assist in documenting an event by capturing photos and videos of participants and landscapes.
Expectations:
• Report to the Nature Calgary Events and Communications sub-committee
• Help to design promotional materials that tell the story of Nature Calgary and natural areas.
• Provide insight into areas Nature Calgary can improve and participate online and within communities.
• Be an ambassador by promoting the society and its activities by engaging with community groups, associations, companies, and nature enthusiasts.
• Have an enthusiasm for the outdoors and connecting with people!
For more information or to submit your cover letter and resume, please email Matt Wallace at citynatureyyc@gmail.com.
Nature Alberta's 50th Anniversary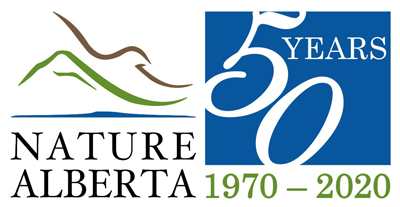 In celebration of Nature Alberta's 50th Anniversary year, through April 2021, Individual Nature Alberta Lifetime Memberships are only $10! Nature needs our help now more than ever — and there's never been a better time to show your support!

email: info@naturealberta.ca
phone: (780) 427-8124

mail: 3rd Floor, Percy Page Centre
11759 Groat Road
Edmonton, AB T5M 3K6
Nature Alberta is incorporated as the Federation of Alberta Naturalists under the Alberta Societies Act and is a registered charitable organization.
Registered Charity
#118913896 RR0001