BY ASHLEY HILLMAN
It's Day 4 on the trail. It's humid, hot, and did I mention humid? Our packs are impossibly heavy with food, camping gear, and sampling equipment. I wish there was someone else to blame for deciding to mix backpacking with field sampling, but unfortunately it was my idea. I have already cut myself on a rock and slipped into the frigid waters of Lake Superior as we struggle down the coastal hiking trail of Pukaskwa National Park. But all this suffering has rewarded us with just what we were looking for: plants!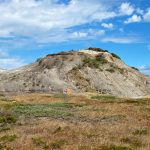 Badlands are a dry, rugged landscape where prehistoric rocks erode out from the hillsides. In Alberta, the most famous badlands are along the Red Deer River. There's another, smaller area of badlands up north near Grande Prairie: the Kleskun Hills.

Nature Alberta is incorporated as the Federation of Alberta Naturalists under the Alberta Societies Act and is a registered charitable organization.
Registered Charity
#118913896 RR0001