Alberta Provincial Parks and Natural Areas Face Closure: A Nature Alberta Perspective
Alberta Provincial Parks and Natural Areas Face Closure: A Nature Alberta Perspective
BY RICHARD SCHNEIDER
The Alberta government has announced its intention to remove 164 of 473 sites from the Alberta parks system. This move is part of a broader initiative to reduce government spending.
Nature Alberta is opposed to this proposal for several reasons.
First, the proposal is not just about privatizing recreation facilities, as it is being portrayed. It also involves the removal of 12 provincial parks — three of which face complete closure — and nine natural areas from the provincial protected area network. Such a delisting of provincial parks and natural areas is unprecedented in Alberta. These sites were established to protect Alberta's natural heritage in perpetuity. Their proposed removal as a sidebar to the annual budgeting process, and without public consultation, is unconscionable. It displays blatant disregard for the government's commitment to balancing resource development with protection of the environment, a high priority among most Albertans. We should be expanding our system of protected areas, aiming towards the 17% target that Canada has committed to, rather than shrinking it.
Second, in addition to protecting biodiversity, many of the sites slated for closure provide important recreational opportunities for Albertans. In fact, some of the targeted sites in northern Alberta provide the only recreational areas in the region. They may not receive high visitation rates relative to other sites, but they are vital for local residents.
Finally, we believe the economic rationale underpinning the proposal is weak. The proposed full and partial closures are expected to result in cost savings of $5 million. This amounts to 0.009% of the entire budget of $56 billion — an amount that is essentially inconsequential. Furthermore, the calculation of savings does not account for the benefits that parks and recreation areas provide. Tourism and recreation contribute to the economy and they contribute to the health and well-being of Albertans. But these benefits do not accrue without sites and facilities to visit.
If you feel strongly about this issue, please contact the Minister of Environment and Parks, Jason Nixon, and let him know your position. He can be reached at aep.minister@gov.ab.ca. For more information visit the Alberta Parks website.
Full closures (closed to public access):
Crow Lake provincial park (786 ha)
Greene Valley provincial park (3,131 ha)
Little Fish Lake provincial park (61 ha; designated an Important Bird and Biodiversity Area)
7 recreation areas
Facility closures:
10 parks and recreation areas
Provincial parks to be removed from the parks system:
Gooseberry Lake
Kinbrook Island
O'Brien
Park Lake
Red Lodge
Rochon Sands
Strathcona Science
Tillebrook
Williamson
Natural Areas to be removed from the parks system:
Bruderheim
Clifford E. Lee
Cow Lake
Highwood River
J.J. Collett (stewarded by the JJ Collett Natural Area Foundation)
Riverlot 56 (stewarded by the Riverlot 56 Natural Area Society)
Sheep Creek
Sherwood Park
Wildcat Island
Nature Alberta's 50th Anniversary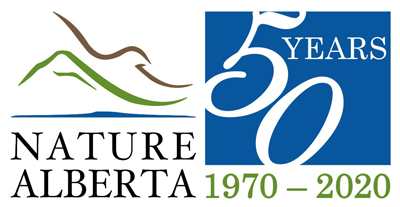 In celebration of Nature Alberta's 50th Anniversary year, through April 2021, Individual Nature Alberta Lifetime Memberships are only $10! Nature needs our help now more than ever — and there's never been a better time to show your support!

email: info@naturealberta.ca
phone: (780) 427-8124

mail: 3rd Floor, Percy Page Centre
11759 Groat Road
Edmonton, AB T5M 3K6
Nature Alberta is incorporated as the Federation of Alberta Naturalists under the Alberta Societies Act and is a registered charitable organization.
Registered Charity
#118913896 RR0001