Peregrine FledgeWatch in Edmonton
Peregrine FledgeWatch in Edmonton
Edmonton Nature Club Bird Study
Speaker: Janice Hurlburt
Edmonton has several nesting sites for Peregrine Falcons. Each summer a dedicated group of volunteers set up a tag team approach of watching and, when required, rescuing the young Peregrines as they take their early flights (fledge) at some of these urban sites. From fuzzy chicks, to wobbly fledglings, to stunning flyers these young birds must develop their skills in a high risk urban environment, with their protective parents guiding them through it. Learn about what is involved in the Edmonton FledgeWatch and the often dramatic rescuing of these  extraordinary falcons. Before the talk you are encouraged to watch Return of the Peregrines which tells of the early conservation efforts in Alberta in the 1970's to early 2000's, saving the Peregrines from the brink of extinction in North America.
Please join the Edmonton Nature Club by clicking here.
Zoom Registration Link: check ENC's events calendar.
Nature Alberta's 50th Anniversary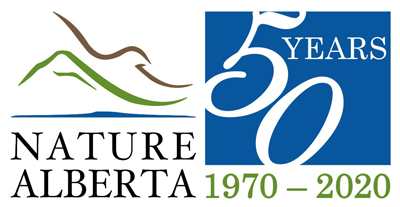 In celebration of Nature Alberta's 50th Anniversary year, through April 2021, Individual Nature Alberta Lifetime Memberships are only $10! Nature needs our help now more than ever — and there's never been a better time to show your support!

email: info@naturealberta.ca
phone: (780) 427-8124

mail: 3rd Floor, Percy Page Centre
11759 Groat Road
Edmonton, AB T5M 3K6
Nature Alberta is incorporated as the Federation of Alberta Naturalists under the Alberta Societies Act and is a registered charitable organization.
Registered Charity
#118913896 RR0001