Bats are Amazing But are Facing Several Conservation Challenges
Bats are Amazing But are Facing Several Conservation Challenges
Speaker: Dr. Robert Barclay
Topic: Bats are Amazing But are Facing Several Conservation Challenges

Dr. Robert Barclay is a professor in the Department of Biological Sciences at the University of Calgary. He teaches in courses spanning first year undergraduate to graduate, focusing on ecology, animal biology and conservation biology. He and his students conduct research on questions involving those topics, focusing mostly on bats. Although most of the research is done in western and northern Canada, he has had the opportunity to work in Australia, southern Africa and Central America.
Thank you to the Red Deer River Naturalists for making this presentation available to our entire Nature Network.
Join the Zoom Meeting here:
https://us02web.zoom.us/j/84303090577?pwd=ZWJJNlZWbFZWSmJta1RkMVRIbjlvdz09
Meeting ID: 843 0309 0577
Passcode: 116558
Nature Alberta's 50th Anniversary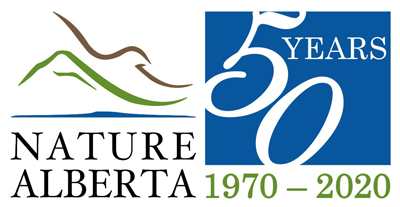 In celebration of Nature Alberta's 50th Anniversary year, through April 2021, Individual Nature Alberta Lifetime Memberships are only $10! Nature needs our help now more than ever — and there's never been a better time to show your support!

email: info@naturealberta.ca
phone: (780) 427-8124

mail: 3rd Floor, Percy Page Centre
11759 Groat Road
Edmonton, AB T5M 3K6
Nature Alberta is incorporated as the Federation of Alberta Naturalists under the Alberta Societies Act and is a registered charitable organization.
Registered Charity
#118913896 RR0001