There are so many ways to support nature, even in an urban environment! Opportunities to foster good stewardship practices exist everywhere, especially in our urban spaces where nature could use some extra help to thrive.
Nature Alberta Publications
Urban Nature Initiative (UNI)
You can protect nature in your own backyard. Supporting Nature and Biodiversity in
Urban Yards shows you how, with tips and resources to attract pollinators, landscape
for biodiversity, live with urban wildlife, and more.
In NatureScape Alberta: Creating and Caring for Wildlife Habitat at Home, biologists Myrna Pearman and Ted Pike give you a step-by-step guide to inviting living creatures into your world. Order your copy in the Nature Alberta Online Store.
Urban Nature Initiative in Action
Real Urban Yards Transformed, Naturally
This summer, Urban Nature Initiative set a handful of Edmonton homeowners on a path to transforming their urban green spaces into refuges for nature. See how some helpful advice and installation of supplemental homes and feeders helped transform these yards into havens for biodiversity within the city.
The Davies' Positive Cumulative Effects
Interested in pitching in to do your part for urban biodiversity? Join families like the Davies who are excited to be inviting nature into their yard in a way that is both sustainable and beautiful, working with nature rather than against nature.
Amanda and Her Family Make Changes to Make Room for Nature
Interested in making your urban yard a haven for biodiversity? Check out how the additions Amanda made to her yard and how her children were able to get involved and get inspired!
Holly and Calvin Plan and Plant Native Species
Interested in reducing lawn and incorporating more native species in your urban yard? See how Holly and Calvin changed their landscaping, making it a great space for pollinators and other species.
Building a Bat Box: How To Guide
Create a safe, bat-friendly space in your own yard by building a bat house! Here's a step-by-step guide to building a four-chamber bat nursery. Follow along with the "Building a Bat Box: DIY Instructions" downloadable instructions, including materials and tools list and cutting diagrams.
Create a Bird Oasis in Your Backyard
Naturalize Your Yard to Create a Bird Oasis
Many bird species are in decline, but you can help by creating a bird-friendly oasis in your own yard! Taking steps to naturalize your outside spaces provides an inviting environment to welcome birds.
Food, Water, and Shelter in Your Bird Oasis
Naturalizing your yard with fruit-bearing native plants is a great way to provide birds with both habitat and a source of food, but a well-stocked bird feeder, clean water in bird baths, and nesting boxes are also welcome additions!
Bird Oasis Safety
When you're creating your backyard bird oasis, you want to make sure your guests are safe. Learn how to help birds avoid window strikes and predators that annually kill over 100 million birds in Canada.
Keep Cats Safe and Save Bird Lives
This initiative seeks to keep both pet cats and birds safe. Cats that are allowed to roam
unsupervised face many dangers to themselves and cause the death of millions of birds
each year.
Nature Alberta's 50th Anniversary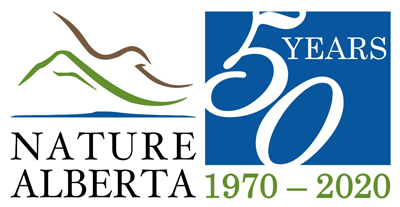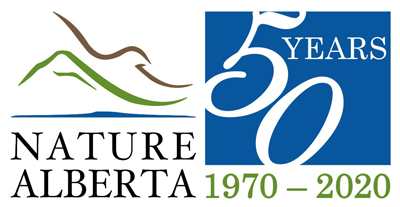 In celebration of Nature Alberta's 50th Anniversary year, through April 2021, Individual Nature Alberta Lifetime Memberships are only $10! Nature needs our help now more than ever — and there's never been a better time to show your support!
Nature Alberta is incorporated as the Federation of Alberta Naturalists under the Alberta Societies Act and is a registered charitable organization.
Registered Charity
#118913896 RR0001