Donations from individuals and organizations alike make our work possible, supporting our nature education, conservation, and citizen science projects. Your contributions help us affect change on issues of provincial significance, including bird conservation, species at risk, and wilderness protection. Whether you can give a one-time donation, a recurring donation, or a contribution to the Endowment Fund, everything helps, and all donations are greatly appreciated.
Nature Alberta is incorporated as the Federation of Alberta Naturalists under the Alberta Societies Act and is a registered charitable organization (Registered Charity #118913896 RR0001).
When you donate to Nature Alberta (Federation of Alberta Naturalists) through ATB Cares, ATB covers the transaction and credit card fees so we receive 100% of your donation. Your generous gift is greatly appreciated and directly supports our projects and initiatives.
Gift the Gift That Gives Twice — To Your Loved One, and To Nature!
A donation made in someone's name is a beautiful way to show you know how important nature is to them. Make a donation of $10 or more as a GIFT and we'll send a personalized e-card to your recipient, including a message from you. Simply fill out the form below, including the full name and email address of each recipient in the third field, then complete your transaction on our donation page. We'll match up your transaction, personalize a beautiful Nature Alberta e-card, and mail it to your loved one.
Whether a one-time donation in support of our projects and initiatives or a contribution to our Endowment Fund to support ongoing operational requirements, all donations contribute to the protection and promotion of Alberta's natural heritage and are greatly appreciated.
Nature Alberta is a registered charity and donations of $20 or more are eligible for a tax receipt.
Give the Gift of a Donation in your Loved One's Name
Your monthly or recurring gift allows us to plan ahead for our programs and provide timely responses to conservation issues around the province. The ATB link above does not support automatic recurring donations, so to make monthly donations online. Subscribe to join our list of recurring donors!
Invest in Nature Alberta's future. Contributions made to the Nature Alberta Endowment Fund support our ongoing operational requirements and will allow our us to continue promoting, conserving, and protecting Alberta's natural heritage now and into the future.
Prefer Paper?
You can print a donation form, complete it, and
mail it along with your cheque to:
Nature Alberta
3rd Floor, Percy Page Centre
11759 Groat Road
Edmonton, AB T5M 3K6
Privacy Guidelines
Nature Alberta respects the privacy of its supporters and pledges to maintain a high level of financial integrity and accountability. We do not share donor information with any third parties. A copy of our privacy guidelines is available upon request.
Nature Alberta's 50th Anniversary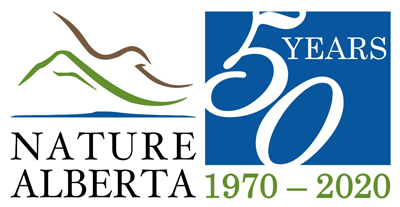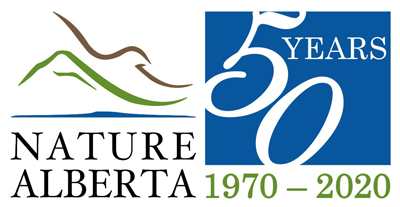 In celebration of Nature Alberta's 50th Anniversary year, through April 2021, Individual Nature Alberta Lifetime Memberships are only $10! Nature needs our help now more than ever — and there's never been a better time to show your support!
Nature Alberta is incorporated as the Federation of Alberta Naturalists under the Alberta Societies Act and is a registered charitable organization.
Registered Charity
#118913896 RR0001