Citizen science entails recording and summarizing the observations made by amateur naturalists. Having many "eyes and ears" studying nature helps advance our understanding of species trends over time. For example, the best information available on long-term changes in bird populations comes from the Breeding Bird Survey, which is entirely based on the contribution of amateur birders. Taking part in citizen science programs is also a great way to get out and experience nature. Get involved!
A list of citizen science programs is available in the Promoting Citizen Science in Alberta report. Here are some of the most popular programs in Alberta:
Since 1976, Nature Alberta has promoted the annual May Species Count. This program includes counts of flowering plants, birds, and sometimes mammals. Summaries of the data for each year can be found in the May Species Count Archive. All of our bird data is shared with Bird Studies Canada, where it is available for download on their Nature Counts website.
By reporting when certain plants bloom and leaf out in spring, Albertans contribute vital information for climate change studies. The speed of spring plant development is controlled mainly by temperature, and there is evidence that warming winter and spring temperatures are already resulting in earlier appearances of flowers. Join us in tracking spring timing at Alberta Plantwatch!
The North American Breeding Bird Survey is designed to collect long-term data on the population status and trends of breeding birds throughout North America. The survey has been running in Alberta since 1968, when it started with four routes. Today 85 to 90 routes are visited by volunteers every year.
NatureLynx is a social media platform established by the Alberta Biodiversity Monitoring Institute (ABMI). Users download a phone app and use it to identify local species, learn about biodiversity hotspots, and connect with other naturalists. The initiative encourages users to network and mobilize their efforts, both socially and to contribute to the scientific understanding of Alberta's ecosystems.
BY SHAYE HILL, MYRNA PEARMAN, CLAUDIA LIPSKI, AND NATALIA LIFSHITZ
Bats are fascinating creatures, playing a critical role in supporting biodiversity.
Read More
Nature Alberta's 50th Anniversary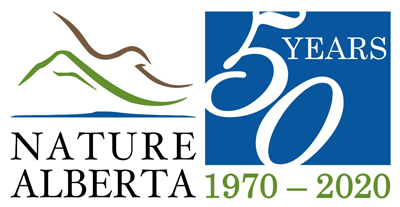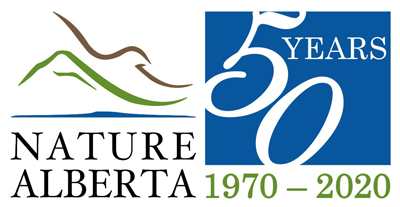 In celebration of Nature Alberta's 50th Anniversary year, through April 2021, Individual Nature Alberta Lifetime Memberships are only $10! Nature needs our help now more than ever — and there's never been a better time to show your support!
Nature Alberta is incorporated as the Federation of Alberta Naturalists under the Alberta Societies Act and is a registered charitable organization.
Registered Charity
#118913896 RR0001