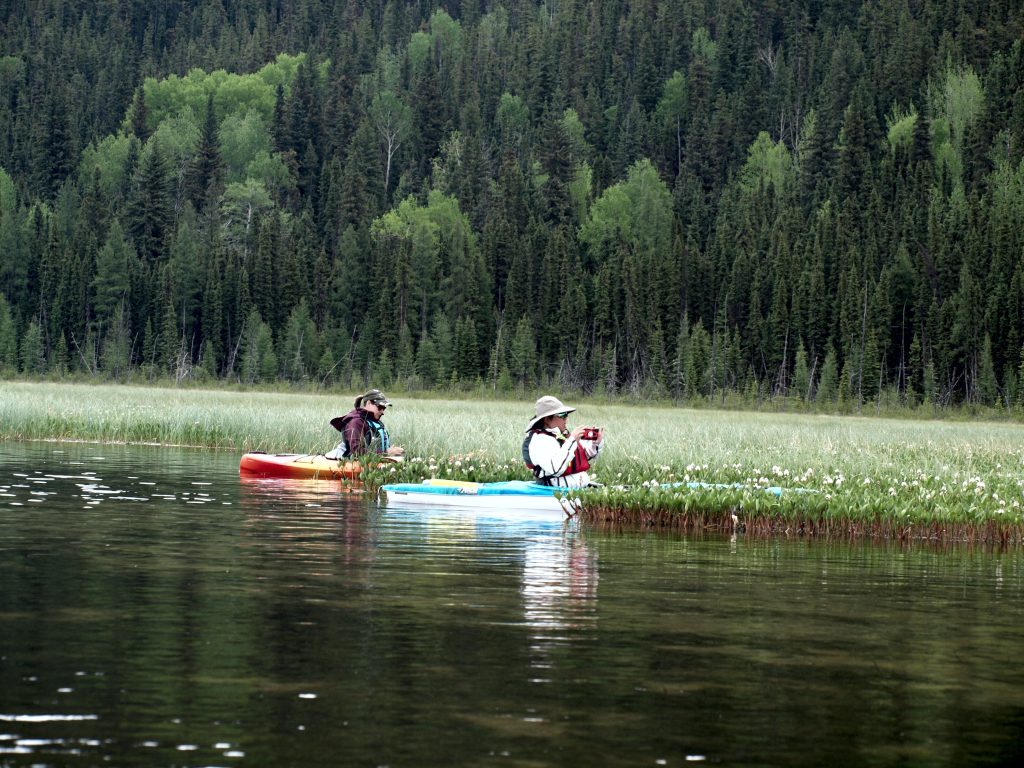 BY MARK LUND
Imagine an early morning on a quiet Alberta lake. You silently glide along, listening to the morning calls of a loon and the squawks of a flock of Franklin gulls, and then you see the graceful swoop of a flock of pelicans landing on the water near you. As you drift along watching the pelicans feed you soon realize that they are paddling in formation, herding the fish towards each other. These moments are unique to the experience of paddling on Alberta's waterways.
I went on my first overnight canoe trip as a teenager on the Red Deer River in 1966. A group of friends from the Red Deer College Canoe Club and I were given an Opportunities for Youth grant to explore the rivers of Alberta and write the first canoe guide for the province, published in 1972. Since then I've been involved in most every subsequent paddling guide written for Alberta, and I began publishing my own series of guides for Alberta's rivers and lakes in 1996. I have paddled on every major watershed in the province, but each year I still find a new reach or two to explore. For more than 50 years, paddling has been part of my occupation, my recreation, and my favourite way to enjoy the scenery and natural diversity of Alberta.
Why Paddle?
Surprisingly for a land-locked province, much of Alberta is only easily accessible by water. Paddling offers views of wildlife, native plants, and spectacular scenery that even backcountry hikers or cyclists don't get to see. In calm conditions, a canoe or kayak can provide the stable platform necessary for good photography. And the slow, quiet stalk of a boat moving through water can get you some close encounters without disturbing wildlife or the landscape.
On the practical side, one can drag along more gear and provisions in a canoe or kayak than one can comfortably pack for a hike or bike trip. A canoe of an appropriate size is great for families, hauling the whole crew and keeping everyone safely together. Paddling also opens up opportunities for people with mobility challenges to get close to nature where hiking trails are not accessible.
Places to Paddle
Alberta is comprised of at least four major ecological zones, each offering wonderful opportunities for paddlers to view wildlife, native plants, great scenery, and cultural resources. Your local paddling club is the place to start accessing these opportunities. Most canoe and kayak clubs organize day, weekend, or longer trips, and offer learning programs for new members. Visit paddlealberta.org to find a club near you.
The prairies of Southern Alberta offer some of the best wildlife viewing opportunities in the province. Wildlife is concentrated in the river valleys in this region. One trip I return to every few years is the Milk River, through Writing-on-Stone Provincial Park. This valley has it all: wildlife, scenery, interesting plant life, and great historical Indigenous and settler resources.
The accompanying photo of a great horned owl was taken on a very hot day a few years ago on the Milk River. Our group of boats quietly drifted by in the centre of the stream as the owl rested in the shade of the undercut riverbank. Great shots, no disturbance.
If the Milk River is just too far away, consider the middle reaches of the Red Deer River between Content Bridge (Highway 21 southwest of Stettler) and Dinosaur Provincial Park (northeast of Brooks).
Alberta's mountains and foothills offer fine paddling opportunities. Bear in mind that downhill-running streams with strong currents require appropriate skill levels. One of my favorite places to take new club members is William Switzer Park north of Hinton. Within the park's series of lakes connected by Jarvis Creek, you'll find great campsites and always a variety of wildlife and plant life to inspect. Jarvis Creek, particularly between Jarvis and Graveyard Lakes, makes for a fine first stream for a new moving water paddler.
The big rivers of Central Alberta and the Parkland Region, like the North Saskatchewan, are perfect for day, evening, or weekend trips. Generally, the further upstream one goes, the faster the current, and the greater the number of risks such as log jams and sweepers (fallen trees that partially or completely block passage). When water levels aren't running too high, the reaches below Devon through to Saskatchewan and beyond are excellent for new moving water paddlers with good flatwater skills.
For Edmontonians, a day trip to Astotin Lake in Elk Island National Park is the classic birding trip. Islet Lake in the Blackfoot-Cooking Provincial Recreation Area is an excellent alternative, east of Edmonton and south of Elk Island National Park.
Another Central region alternative is Big Lake just west of St. Albert. With the recently established boat launch in Riel Recreation Park, this has become a very popular site for an early-season half-day or evening paddle.
You don't necessarily have to venture into the deep backcountry for a rewarding experience. You may be pleasantly surprised by all these close-to-home locales have to offer. Many moons ago my wife Lois and I spent three days on Maligne Lake, nestled in the mountains of Jasper National Park. A few days after returning home, we took a three-day trip down to Victoria Settlement from Edmonton. We saw more wildlife — beaver, fox, whitetail deer, and numerous waterfowl — in the first couple hours paddling out of Edmonton than we had in three days on Maligne Lake!
Northern Alberta offers excellent nature viewing opportunities for the novice paddler. There are easy river runs, after the spring monsoon flows settle down in mid-July, on the big rivers like the Peace River down to Fort Vermillion, or the Athabasca River from Fort Assiniboine through to the town of Athabasca. A few years ago on an overnight paddle to Fort Assiniboine in early spring, a bald eagle gave us a fishing demonstration right off our beach — quite a show to go with our morning coffee!
If you are not quite ready for river paddling, just east of Lac la Biche is Lake Land Provincial Park with the Jackson Lake circuit. If the 3.5-km portage into Jackson Lake seems daunting (carts are provided), Lac la Biche and Beaver Lakes, on each side of the townsite, also offer excellent birding and wildlife viewing.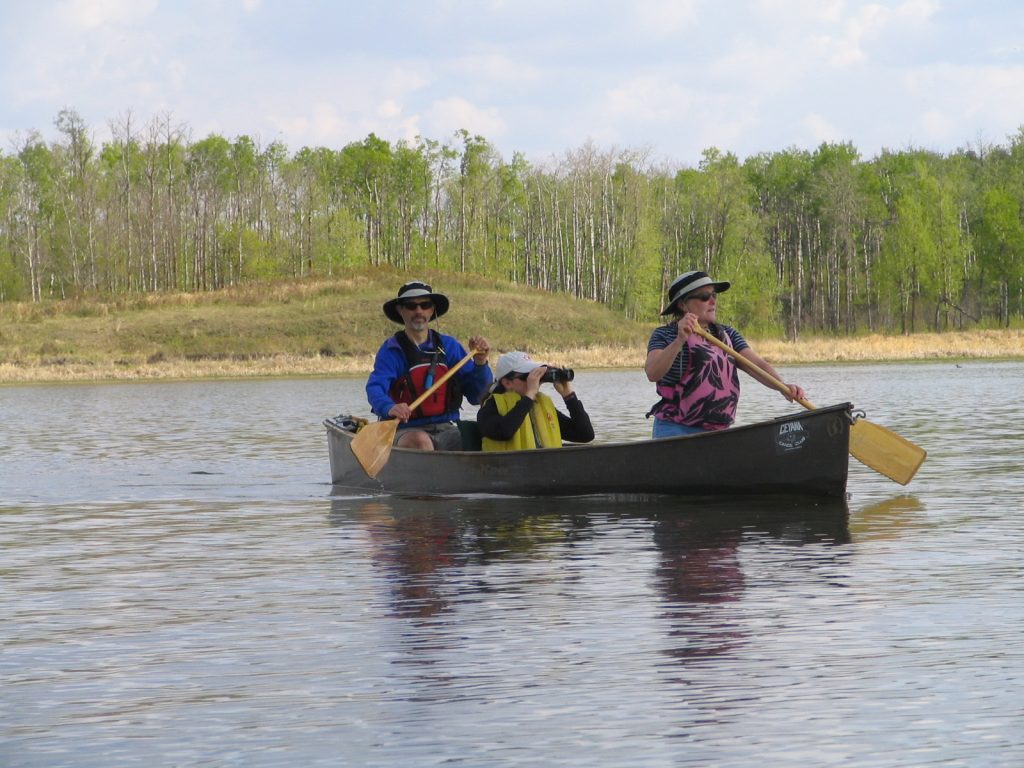 Hone Your Skills
There's a segment of the Canadian population that seems to think paddling abilities are "in their genes" and they hit the water without instruction. These folks' paddling careers often tend to be short and scary. But they do perform a service for the community by providing a source of cheap, lightly used gear.
The basics are not difficult to pick up, but the skills you need to navigate moving water are a step up from flatwater techniques, and more challenging rapids call for even more practice.
Most of the paddling clubs in Alberta offer instruction to members, and membership is open to the public and is inexpensive. Several commercial outfitters throughout the province also offer lessons, as well as guiding for new paddlers — or even experienced paddlers who want the convenience of someone else looking after trip arrangements and logistics. The skill, confidence, and peace of mind you'll get from proper instruction is well worth the time and investment.
Canoe or Kayak?
What is the difference between a canoe and a kayak? Which is better for your nature-viewing trip?
Canoes are open-topped boats with hulls that extend well above the water and bench-style seating for sitting or kneeling (for more stability and power). Kayaks are closed craft with a low, sleek profile and you sit on or near the bottom of the kayak. Canoes are propelled with single-bladed paddles (not oars!) and kayaks with double-bladed paddles.
Most canoes are larger than kayaks and are able to hold two paddlers plus a passenger or two and plenty of gear. Beginners will enjoy the greater stability of most canoes. Of course, that extra size means extra weight; something to consider if you're going to be transporting your craft to your destination or will be portaging overland between waterways. If the plan is to take the whole family, especially little ones and pets, out for a trip, you'll be well served with a canoe.
The majority of kayaks sold seat one person, meaning each member of your party will be paddling their own. This is fine for adults and even younger teens with proper instruction, but probably not suitable for the littlest crew members (and there's no place for pets). Double kayaks are available for couples, or a parent and child combo. Kayaks tend to be lighter and easier to transport.
A kayak's lower, unobtrusive profile offers some significant advantages to birders. I've found it much easier to approach wildlife in a kayak compared to the higher profile of a canoe. However, a skilled canoeist has the advantage of an in-water paddle recover technique that allows for more silent movement.
If you've reached the stage of purchasing your own craft, a rule of thumb for both canoes and kayaks is that there is an inverse relationship between cost and weight. I recommend choosing the lightest boat you can afford that meets your needs.
Beyond just the craft, paddling in our variable Canadian climate requires considerable additional gear for a safe and enjoyable trip. Boating regulations require: lifejackets for all, a spare paddle, throw-bags for rescue, a bailer, a whistle, and if night paddling a white 360o light. Weather-appropriate clothing, spare dry clothes, footwear, drinks and snacks, a first aid kit, sunscreen, toilet tissue, and your camera in a dry bag are all among the essentials I take along, even on short half-day trips.
Viewing Alberta's natural wonders from our ponds, rivers, and lakes can provide an entirely different perspective on places you've seen before and paddling opens opportunities to see things you may never have. Paddling reminds us of the connections between the land, the water, and ourselves. The social experiences with other paddlers, the wildlife, and the natural environment all keep paddlers coming back to repeat favourite trips and to explore new reaches. I hope your future nature adventures include many paddle-powered excursions!
Mark Lund is a retired physical and outdoor educator who taught at the University of Alberta and MacEwan University for over 30 years. Mark still paddles and guides trips out of his home base in Edmonton with the Ceyana Canoe Club (ceyana.ca) and his family. His comprehensive guidebook, Mark's Guide for Alberta Paddlers, is the definitive guide to Alberta's waterways, essential reading for beginning paddlers looking for sound advice and experienced paddlers looking to expand their horizons.
This article originally ran in Nature Alberta Magazine - Spring 2022.