Beaverhill Bird Observatory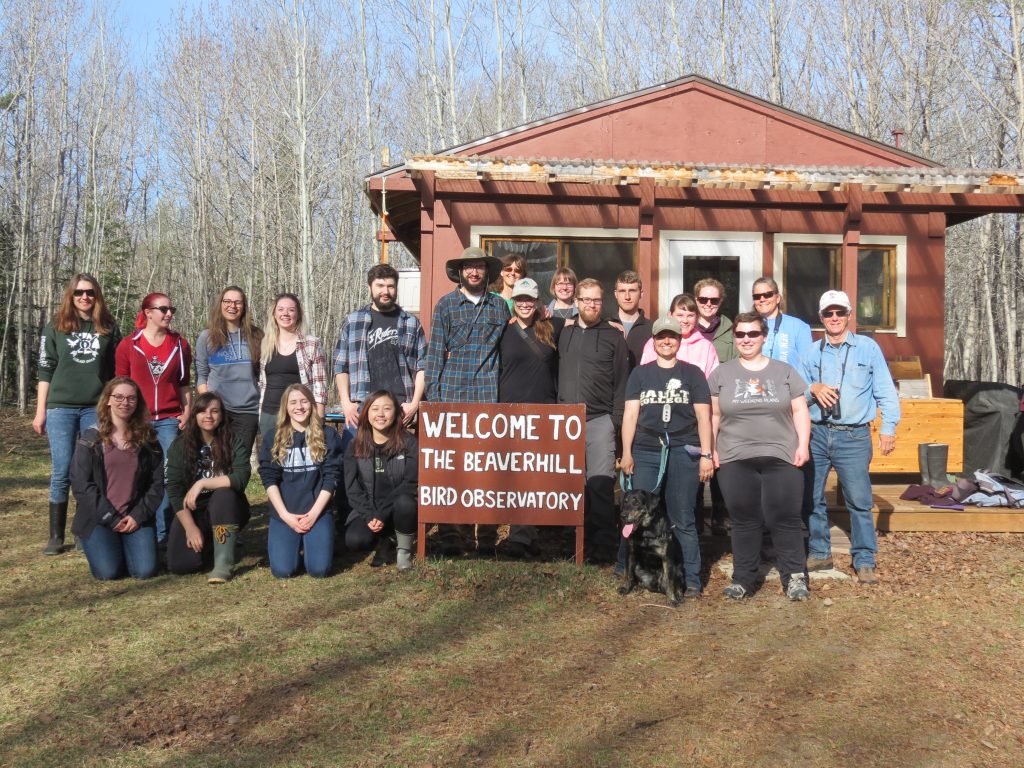 BY GEOFF HOLROYD
Nature Alberta is proud to support a diverse range of naturalist organizations, representing people passionate about all things nature — birds and reptiles, plants and mushrooms, butterflies and beyond. In this issue, we feature the Beaverhill Bird Observatory, approaching 40 years of operation.
Located in Beaverhill Natural Area on the southeast corner of Beaverhill Lake, the Beaverhill Bird Observatory (BBO) has monitored bird migration and studied breeding birds for 37 years. While BBO started as a group of volunteers banding birds on weekends, we are now a full-fledged conservation organization nearly 700 members strong.
The Beaverhill Natural Area is open to the public, and BBO activities have attracted increasing interest in recent times. In prior seasons, dozens of visitors would stop by our lab daily, and last autumn up to 70 people arrived to watch our owl banding! The growing interest in our research and education programs is encouraging, but has also means we are in need of renewing our facilities. Our 30-plus-year-old buildings are showing their age. In 2018 we were able to replace our oldest bunkhouse, and we are currently working on replacing our main building with a two-storey, solar-powered education and research centre. 
BBO members have witnessed many changes over the decades. Beaverhill Lake dried up in the early 2000s, but is now refilling thanks to heavy rainfall. It is currently about 75% of its previous size. In the spring of 2020, the sounds of migrating waterfowl filled the air around the lake. Songbird populations are also changing. Despite an abundance of nest boxes, the number of nesting tree swallows has declined 25% and they are producing 10% fewer young than in the 1980s. We are catching fewer migrating songbirds, and some species weigh less than they did 20 years ago. As a member of the Canadian Migration Monitoring Network, our data are used to help document these changes, but with limited resources we are not able to determine why these changes are occurring. 
With climate change and human activity placing pressures upon bird habitats, it is clear that more education about birds is badly needed. We have expanded our education program to include about 12 interns each year; these university students conduct projects under the watchful guidance of a volunteer mentor and document aspects of wildlife at BBO. We host an annual Young Ornithologist Workshop where up to 10 youths spend a week camping with our biologists, banding birds in the morning and exploring many other species with various experts through the afternoons. In winter, our BirdSmart outreach program gives presentations about bird-related topics to schoolchildren and other groups, accompanied by one of our live education owls. In the winter of 2019-20 we gave 254 presentations to 21,024 people, and the response is universally positive.
We encourage you to visit beaverhillbirds.com to learn more about BBO, and while there you can sign up as a lifetime member for only $10. The temporary closures and reduced visits of this year have resulted in some shortfalls in our building plans; if you are able to make a donation to help us maintain our facilities and continue our programs, it is greatly appreciated. Thank you to all who have supported BBO over the decades and continue to share in the joy of birds.
Dr. Geoff Holroyd is the Chair of the Beaverhill Bird Observatory. He can be reached at chair@beaverhillbirds.com.
This article originally ran in Nature Alberta Magazine - Fall 2020.