Coal Mining in the Eastern Slopes is not in the public interest: new report
Coal Mining in the Eastern Slopes is not in the public interest: new report
BY RICHARD SCHNEIDER
A new report from the University of Calgary's School of Public Policy indicates that coal mining in the Eastern Slopes is not in the public interest (see report). The researchers present a comprehensive cost-benefit analysis which shows that the economic benefits of mining are overshadowed by the costs arising from the displacement of ranching, tourism and the negative environmental effects on water, vegetation, air and wildlife. The researchers conclude that the government should consider banning coal mining in the Eastern Slopes.
The School of Public Policy report is one of more than a thousand submissions made to the Coal Policy Committee about the future of coal mining in the Eastern Slopes. This Committee was struck by the provincial government in early 2021 to receive public feedback and provide recommendations for a new coal policy. Citing a deluge of public response, the Committee recently requested an extension of its reporting deadline. The extension was granted and the new deadline is Dec. 31, 2021. Albertans concerned about the protection of the Eastern Slopes should be prepared to reengage in letter writing early in the new year to ensure that the new coal policy which is developed reflects the public interest.
Nature Alberta's 50th Anniversary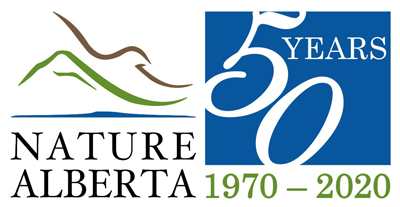 In celebration of Nature Alberta's 50th Anniversary year, through April 2021, Individual Nature Alberta Lifetime Memberships are only $10! Nature needs our help now more than ever — and there's never been a better time to show your support!

email: info@naturealberta.ca
phone: (780) 427-8124

mail: 3rd Floor, Percy Page Centre
11759 Groat Road
Edmonton, AB T5M 3K6
Nature Alberta is incorporated as the Federation of Alberta Naturalists under the Alberta Societies Act and is a registered charitable organization.
Registered Charity
#118913896 RR0001