Lesser Slave Lake Bird Observatory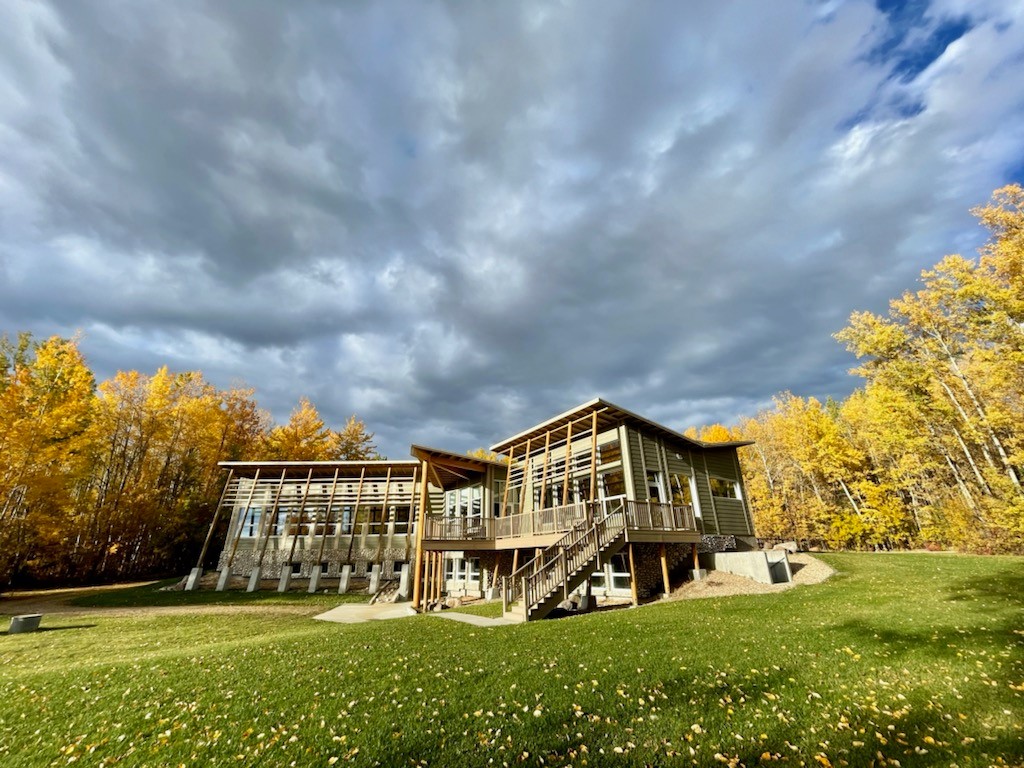 Boreal Centre for Bird Conservation photo by Edith MacKenzie
BY PATTI CAMPSALL
Nestled along the eastern shores of one of Alberta's largest lakes, the Lesser Slave Lake Bird Observatory (LSLBO) is the perfect spot to study birds migrating to the Boreal Forest. Lesser Slave Lake and Marten Mountain form natural barriers that funnel migratory birds along the shoreline. Designated as an Important Bird Area, Lesser Slave Lake Provincial Park also provides important stopover and breeding habitats for over 255 bird species. Inspired by these incredible birding opportunities, local volunteers established the LSLBO in 1994 to "promote bird conservation through research and education."
Summer is short in the boreal forest. The LSLBO starts Spring Migration Monitoring in mid-April before the ice is even off the lake, but early migrant species such as juncos and American tree sparrows are already moving north. Most warbler species arrive in mid-May; peak migration comes in late May with the arrival of the Canada warblers. By early June, the birds are nesting and taking advantage of the long days, abundant food, and diverse breeding habitats found in the boreal forest. By mid-July, Fall Migration Monitoring starts as the long-distance migrants begin departing for their wintering grounds. After a wave of juvenile warblers, sparrows, and thrushes passes through in early August, migration will slowly taper off until the end of September.
During migration monitoring, the LSLBO uses visual counts, a daily census, and bird banding to gain a better understanding of the health and population status of bird species. As part of the bird banding process, passive mist nets are set up at sunrise to capture migrating songbirds. Each bird receives a uniquely numbered lightweight aluminum band and important scientific data is collected including species, age, sex, size, and overall health. The banding process takes less than a minute and then the bird is quickly released to continue on its way. All data is shared with the Canadian Migration Monitoring Network to provide a better understanding of bird populations across Canada. The LSLBO also participates in the Monitoring Avian Productivity and Survivorship program, Owl Fall Migration Monitoring, and collaborative research projects. 
With the growth of the education and research programs at the station, the LSLBO partnered with Alberta Parks to establish the Boreal Centre for Bird Conservation in Lesser Slave Lake Provincial Park. This year-round education and research facility provides hands-on exhibits, interpretive trails, education programs, collaborative research opportunities, and special events including the Annual Songbird Festival, which takes place on the last weekend of May. During migration, the LSLBO is also open for tours and school field trips. These interactive programs are a compelling and effective way to connect visitors of all ages with the challenges facing boreal birds. 
For more information on the Lesser Slave Lake Bird Observatory, visit lslbo.org. 
Patti Campsall is the Executive Director of the Lesser Slave Lake Bird Observatory and Boreal Centre for Bird Conservation.
This article originally ran in Nature Alberta Magazine - Summer 2022.