JJ Collett Natural Area Foundation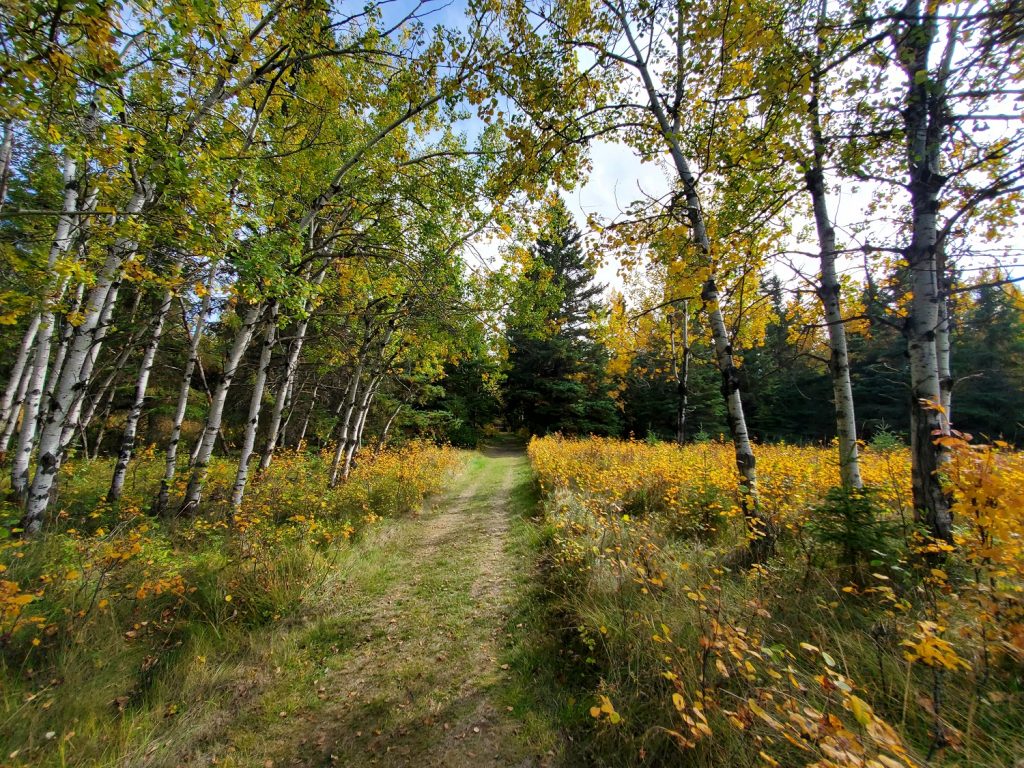 Photo by Russell Hemmingson
BY MARILYN MATSUOKA
One of the best-kept secrets in Central Alberta… up until spring 2020 when our world changed and we saw a significant increase in visitor traffic! JJ Collett Natural Area is located not far off Highway 2, near the hamlet of Morningside. It consists of 635 acres, boasting over 18 km of maintained trails winding through a mosaic of shrublands, aspen groves, and stands of white spruce on shady hillsides.
JJ Collett is unique in that you can experience the boreal forest, foothills, parkland, and grasslands, all in one location. It is truly a special, family-friendly place that draws you in and charms you with its wildlife, wonderfully treed paths, and diverse topography. Wetlands and grassy meadows are typical of the area, though you may be surprised to also come across sand dunes.
Each season highlights new wonders. Spring brings fresh aspen buds and wildflower blooms. Summer displays a wide range of vegetation including native grasses. Fall gives way to the vibrant, turning colours. And winter opens the snow-covered forest trails to a peaceful cross-country skiing experience. 
Steeped in history and privately owned prior to 1974 by Joe Collett, the provincial government and the Alberta Wildlife Foundation jointly purchased the land in trust to be used for environmental education. In 1976, the site was designated the JJ Collett Natural Area in memory of John Joseph Collett, Joe's son, who studied forest technology and was devoted to the preservation of natural resources. John founded the original trails, which are still in use today.
In 1985, the JJ Collett Natural Area Foundation was formed, with a mandate to preserve the area and use this resource for environmental education. The Foundation's active group of volunteer directors maintains the area with the goals of preservation, protection, and instilling environmental values in the community. An endowment fund has been established for future sustainability. 
After a two-year hiatus, we hope to bring the Foundation's Grade 6 environmental education program back to local area classrooms soon. Students learn about identifying plants, discuss environmental issues, and enjoy a field trip to visit the natural area. 
We offer visitors guided educational walks in the spring and fall, often led by our resident expert and honorary director, Dr. Charles Bird, retired Professor of Botany. We are privileged to have his expertise, knowledge, and keen eye for spotting rare flora and fauna native to the area.
Put Sunday, May 29, 2022 at 2 p.m. in your calendar — you're invited to join us for our annual Spring Walk. We will have guided tours identifying plants, wildlife, and all the sights of the spring season. You may even witness a bird release by Medicine River Wildlife Centre.
For more information on the JJ Collett Natural Area Foundation, follow us on Facebook and visit our website: jjcollett.com. You will find a treasure trove of information on the rich history of the area, extensive species checklists and photos, and a map of the vast trail system. We also encourage you to check out opportunities to support the Natural Area Foundation in our mission to preserve a remnant of Central Alberta's beautiful landscape.
Marilyn Matsuoka is a Director with the JJ Collett Natural Area Foundation.
This article originally ran in Nature Alberta Magazine - Spring 2022.