My BIG Alberta Backyard – Grande Prairie Trumpeter Swan IBA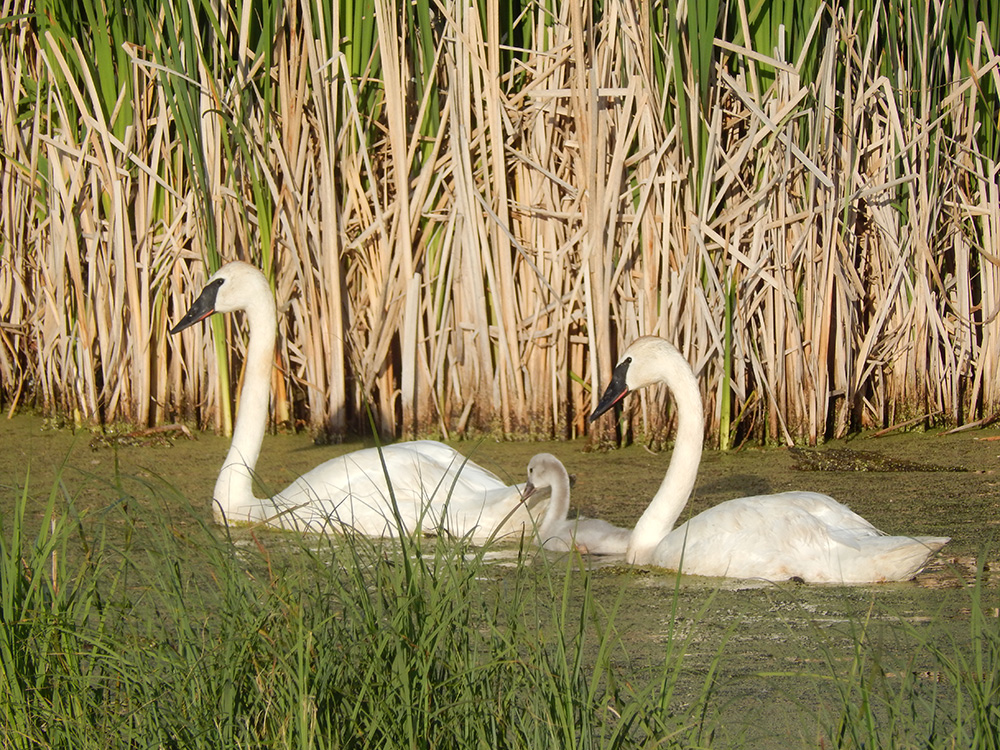 BY ZOE MACDOUGALL, NATURE KIDS PROGRAM COORDINATOR
Alberta is a great place to live. It's a big beautiful province full of all kinds of natural wonders. This is where we introduce you to the diversity of wildlife, and unique and interesting wild spaces, that are part of your Big Alberta Backyard. This time, let's explore the Grande Prairie Trumpeter Swan Important Bird and Biodiversity Area (IBA) located in Saskatoon Island Provincial Park.
What is an IBA?
The Important Bird and Biodiversity Areas program is a global initiative to monitor and conserve natural areas that are important for birds and biodiversity. This program was started by BirdLife International to recognize significant places for bird and biodiversity conservation around the world.
In Canada, Birds Canada and Nature Canada have partnered to provide information about ways that we can work together to keep these important areas wild and healthy for our furry and feathered friends! There are 325 IBA sites in the country and 47 of those are located here in Alberta. You can learn more about Alberta's IBAs and how to visit these sites by downloading our Important Bird and Biodiversity Areas Checklist at naturealberta.ca/guides-checklists
Grande Prairie Trumpeter Swan IBA
The Grande Prairie Trumpeter Swan IBA is located near the city of Grande Prairie in the Saskatoon Island Provincial Park, just a quick 25-minute drive from the city centre. It has several lakes that many species of birds call home every year — more than 150 species have been recorded here! It is a significant area for waterfowl and a special place for trumpeter swans. These wonderful birds migrate here in the spring to breed and stay until the fall when they migrate south. This area is especially important for trumpeter swans because over 100 years ago biologists thought that these birds had completely disappeared in Canada, but a small flock was found in this area in 1918. This led to Saskatoon Lake becoming a Federal Migratory Bird Sanctuary 30 years later, and the trumpeter swan numbers kept growing! 
If you live in or around the Grande Prairie area or if you are visiting the area, Saskatoon Island Provincial Park, one of Alberta's first provincial parks, has lots for any naturalist to explore! There is a wide variety of plants and animals to see while you take a nature walk on the four kilometres of trails through the forests, wetlands, and native prairies! There is a viewing platform on Little Lake where you can watch the trumpeter swans in the summer. You can also camp and canoe, and cross-country ski and snowshoe in the winter!  
This article originally ran in Nature Alberta Magazine - Winter 2021