Christmas Bird Counts
Snow Buntings by Gerald Romanchuk
2021 Christmas Bird Counts Across Alberta
The Christmas Bird Count started in 1900 and is the longest running Citizen Science project in North America. Christmas Bird Counts are conducted on a single day between Dec 14 and Jan 5 within a 24 km diameter circle. Many are organized by Nature Alberta Member Clubs! Count birds in your local count circle to contribute data. Results are used to assess population and distribution trends of birds.
You can participate as a feeder watcher, from the comfort and warmth of your own home, or as a bush beater by coordinating efforts with others in your circle to go for a walk to count birds in the field.
If you have additional information to add for a count circle, please email Steph at info@naturealberta.ca to have it added/updated.
Nature Alberta's 50th Anniversary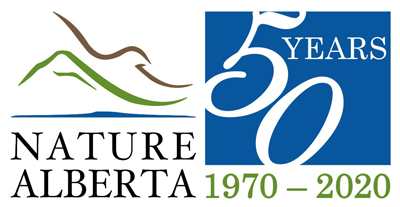 In celebration of Nature Alberta's 50th Anniversary year, through April 2021, Individual Nature Alberta Lifetime Memberships are only $10! Nature needs our help now more than ever — and there's never been a better time to show your support!

email: info@naturealberta.ca
phone: (780) 427-8124

mail: 3rd Floor, Percy Page Centre
11759 Groat Road
Edmonton, AB T5M 3K6
Nature Alberta is incorporated as the Federation of Alberta Naturalists under the Alberta Societies Act and is a registered charitable organization.
Registered Charity
#118913896 RR0001