Trumpeter Swan Challenge
Trumpeter Swan by Gerald Romanchuk
Trumpeter Swans are the largest bird to migrate through Alberta, in the spring and fall, and nest in select areas such as the Saskatoon Lake Migratory Bird Sanctuary.
Trumpeter Swans use their giant webbed feet to gently wrap around their eggs to keep them warm. See if you can warm up an egg using only your feet, for 2 minutes, without breaking it!
Step 1: Ask your parent if its okay.
Step 2: Take an egg out of the fridge and set a timer for 2 minutes.
Step 3: Using only your feet, see if you can warm up the egg, without breaking it!
It takes a Trumpeter Swan 100 m of running to gather enough speed to take flight. See how fast you can run over 100 m!
Step 1: Check with your parent or guardian that it is okay to download Google Earth.
Step 2: Zoom in to your neighbourhood and find a nearby green space or park.
Step 3: Using the ruler, measure 100 m of space in your nearby park.
Step 4: Identify landmarks that you can use when you head out to help you identify how long 100 m is in person.
Step 5: Run 100 m. Can you go really fast by the end of 100 m? Can you keep going fast for the entire 100 m?
Option 1: If you have scuba diving flippers, try running 100 m with those on, while flapping your arms the entire way, to see what it's really like to be a trumpeter swan!
Option 2: Set up a race with other people in your household and see who can run the fastest over 100 m, like a trumpeter swan.
Thank you to our funding partners:

Nature Alberta's 50th Anniversary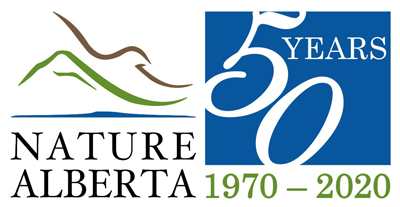 In celebration of Nature Alberta's 50th Anniversary year, through April 2021, Individual Nature Alberta Lifetime Memberships are only $10! Nature needs our help now more than ever — and there's never been a better time to show your support!

email: info@naturealberta.ca
phone: (780) 427-8124

mail: 3rd Floor, Percy Page Centre
11759 Groat Road
Edmonton, AB T5M 3K6
Nature Alberta is incorporated as the Federation of Alberta Naturalists under the Alberta Societies Act and is a registered charitable organization.
Registered Charity
#118913896 RR0001