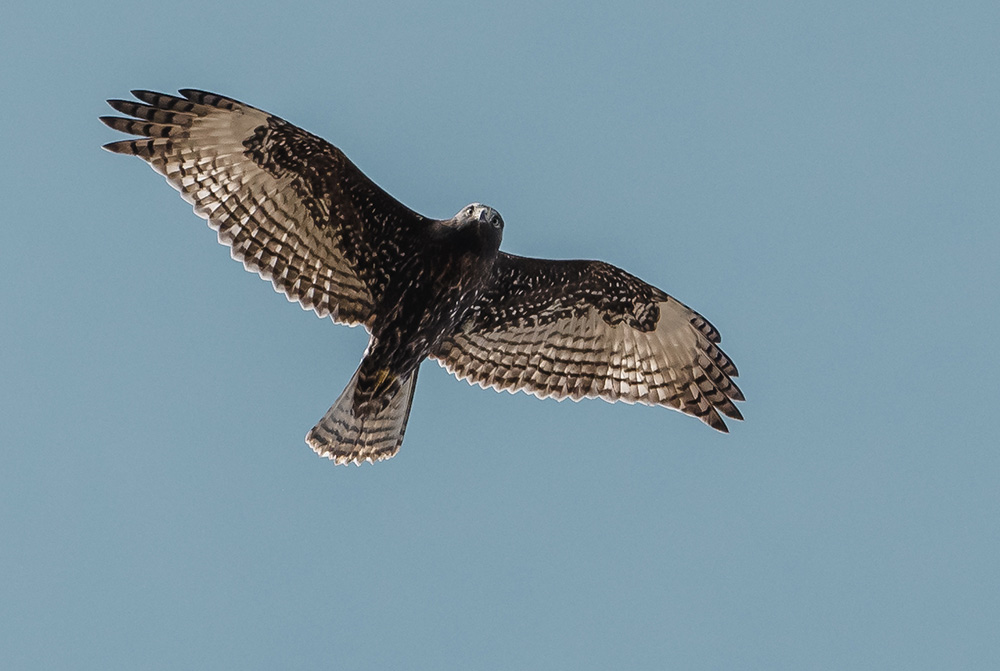 A Harlan's hawk soaring straight overhead of the surveyors at Orkney Viewpoint. RYAN WILKES
BY RYAN WILKES WITH HEATHER BLANCHETTE
Southern Alberta is the site of Canada's largest concentration of badlands, the scars of a receding glacier whose meltwaters assisted in carving out the valleys some 13,000 years ago. The Red Deer River meanders below the famous layered cliffs, which offer a look into Alberta's prehistoric past. While many visitors look towards the ground during their visit to the region, we came here to look towards the sky.
Despite the barren landscape that is often associated with the badlands, the valley accommodates a lively riparian forest. This ecosystem makes the river valley a popular birding spot for local naturalists and visiting birders alike. Local birder Jim McCabe has observed an incredible 113 species since 2001 from his riverside backyard in Nacmine. Bald eagles build their nests in the giant cottonwoods that hang over the river and have been observed overwintering in the valley. The valley is home to populations of turkey vultures and prairie falcons, while the surrounding prairies are part of the summer range for red-tailed, Swainson's and ferruginous hawks. However, a survey of migrating raptors has never been attempted in the region. To our knowledge, the closest raptor migration survey is the annual Rocky Mountain Eagle Research Foundation (RMERF) survey in Canmore and Kananaskis. Establishing a raptor migration monitoring hot spot somewhere in the 1,300 km of prairies separating the Rockies and the Pembina Valley would be a worthwhile achievement. 
Local biologist Tim Schowalter recognized the lack of data around migrating raptors in the region and brought us on board to do this preliminary research. Over the years, he had received several local reports of hawks soaring over the river valley during migration season. He realized that raptors may be taking advantage of thermal and wind-driven updrafts on the flanks of the river valley, which runs 120 km north to south, to help them move south in the fall.
We were new to birding when we arrived, but after spending six weeks immersed in the practice of searching for, photographing, and identifying birds of prey, we feel that we are well on our way to becoming true birders. Tossed in the deep end, we quickly learned how to identify buteos at a distance, to recognize the flight pattern of an accipiter and the soaring silhouette of an eagle. We experienced the changing seasons from our perch overlooking the river valley, enduring sunburns in early September and  occasional blizzards in October, recording the comings and goings of avian visitors. A number of birds went unidentified during our survey as a result of our inexperience. However, the photos that I took proved to be invaluable, allowing us to revisit observations at the end of each day and help us learn, reconsider, and confirm identifications.
We were positioned at Orkney Viewpoint (OVP), located 18 km northwest of Drumheller and operated and maintained by Kneehill County. OVP is a popular lookout amongst both locals and tourists due to the beautiful, 180-degree panoramic views of the river valley. It is located near the south end of the 120-km north-south stretch of the river valley. The valley is about 1,800 metres wide here and the bank is steep, dropping 92 vertical metres to the river, offering the potential for close viewing of passing raptors.
Our main goal was to collect data that could help us determine if migratory raptors are using the Red Deer River valley as a fall migration corridor — data that could motivate a more rigorous study in the future. The secondary goal was to collect data to share with birders so that they may have a better chance of observing a raptor in flight over the beautiful backdrop of the badlands. Observations were collected five days per week for six weeks between early September and late October of 2020. We also embarked on a 400-km drive once per week to the northeast of Drumheller to keep tabs on the movement of raptors over the prairies.
Notable Appearances and a Near Miss!
October 8 and October 21 were particularly noteworthy — we observed 41 and 43 raptors, respectively, on those two days. I vividly remember photographing a rough-legged hawk on October 8, as it passed overhead on its way south. When I took my eye away from the viewfinder, I had to pinch myself. Suddenly there were nine more hawks soaring far above us, just west of OVP. Unfortunately, we were unable to identify their species due to how distant they were, but we are confident they were buteos. In the 20 minutes prior, two smaller groups of three and four unidentified buteos had also passed us in a similar fashion, separated by closer flybys of soaring individual red-tailed and rough-legged hawks.
On October 21, following the passing of a cold front, a surprising number of bald eagles began to fly directly over us. At one point I was photographing a juvenile bald eagle that was soaring overhead, when out of nowhere, an adult came straight over a small patch of aspen trees and was forced to bank very abruptly to avoid a possible collision with me. What I would have given to have a film crew with us! We finished the day with 19 bald eagle sightings, 15 more than the next highest daily count for the species. It is worth mentioning that a family of bald eagles (two adults and one juvenile) nest about 5 km south of OVP along the river, and these birds may have been included in our counts. October 21 was also notable for a survey-high 11 sightings of northern harriers. 
Interestingly, the RMERF survey at the Mount Lorette site in Kananaskis recorded no raptors at all on October 21, while just 200 km to the east we observed 43 raptors at OVP. Observers at Mount Lorette reported their weather conditions as "Snowing and mountains lost in cloud and falling snow most of the day."1 It is difficult to know if the lack of sightings was due to poor visibility, if the birds stayed put earlier in the day and waited for better weather, if they flew eastward through the prairies to find more favourable conditions to continue their migration, or a combination of these possibilities. All we know for sure is there were many more bald eagles moving south over OVP on October 21 than on any other day of our survey, and that raptors seem to take advantage of strong northerly winds and passing cold fronts.
One hawk that often stirs up excitement among Alberta birders is the Harlan's subspecies of red-tailed hawk. They pass through Alberta in the fall as they make their way from their breeding grounds in the Arctic to the central and southern United States. Schowalter warned us about these black red-tailed hawks and that we might have trouble identifying them at first. He was right! In true red-tailed hawk fashion, we quickly found out that Harlan's hawks come in a wide array of morphs. A juvenile light morph Harlan's we spotted near Big Valley spurred quite the identification debate on the Alberta Birds Facebook group. In total, we identified nine Harlan's hawks at OVP between October 8 and 23, including four during our road surveys and two in the river valley on our daily commute from Drumheller to OVP. It is interesting to note that our observations of red-tailed hawks (not of the Harlan's variety) during the road survey rapidly dropped off at the end of September and beginning of October, which coincided with an increase in Harlan's hawk observations.
Another buteo that makes a brief but notable appearance during fall migration is the rough-legged hawk. Our first six sightings at OVP came on October 7 and we identified 27 birds in total between the October 7 and 26. A total of 16 rough-legged hawks were observed during our six road surveys, with a high of nine observations on October 14.
You never know what you're going to get when you spend a few hours at OVP. We regularly saw moose, mule deer, coyotes, and beavers in the valley below. It was not unusual to see osprey scooping fish out of the river throughout September, and we were visited by waxwings, spotted towhees, mountain bluebirds, and a variety of woodpeckers. On days when raptor sightings were scarce, we were often given a front-row seat to aerial acrobatics displays from ravens, and we watched chipmunks and thirteen-lined ground squirrels make preparations for the impending winter. On the other hand, while we regularly saw kestrels and merlins during our road surveys in September, it was uncommon to see falcon species at OVP. Similarly, Swainson's hawks appeared to be underrepresented at the viewpoint. Turkey vultures are a common sight over Drumheller and Nacmine, but we didn't see a single one soaring near OVP, just 18 km to the north.
Our findings suggest that raptors use the Red Deer River valley as a fall migration corridor; however, the numbers do not appear substantial enough to warrant a more in-depth study. That said, OVP offers birders the opportunity to see several species of raptor from a unique vantage point. Birds flying through the valley were often at or even below eye level, and sometimes passed within a few metres. This location offers some great opportunities for the patient and dedicated birder looking for an experience that is hard to replicate elsewhere in southern Alberta. And if you're willing to pay close attention to the weather forecast and can be at OVP on a fall afternoon with a passing cold front, you may bear witness to a spectacle of dozens of raptors flying south throughout the day.  
References:
1. Wilson, B. and C. Hansen. 2020. RMERF Count Summary 21/10/2020. eaglewatch.ca/rmerf-count-summary-2020-fall/ (2020).
Ryan Wilkes is a filmmaker, photographer, and PhD candidate in Biomedical Engineering. You can find out more about his work at ryanwilkes.com.
Heather Blanchette is an avid nature lover who is passionate about making conservation accessible to everyone.
This article originally ran in Nature Alberta Magazine - Winter 2021