My BIG Alberta Backyard – Gaetz Lakes Sanctuary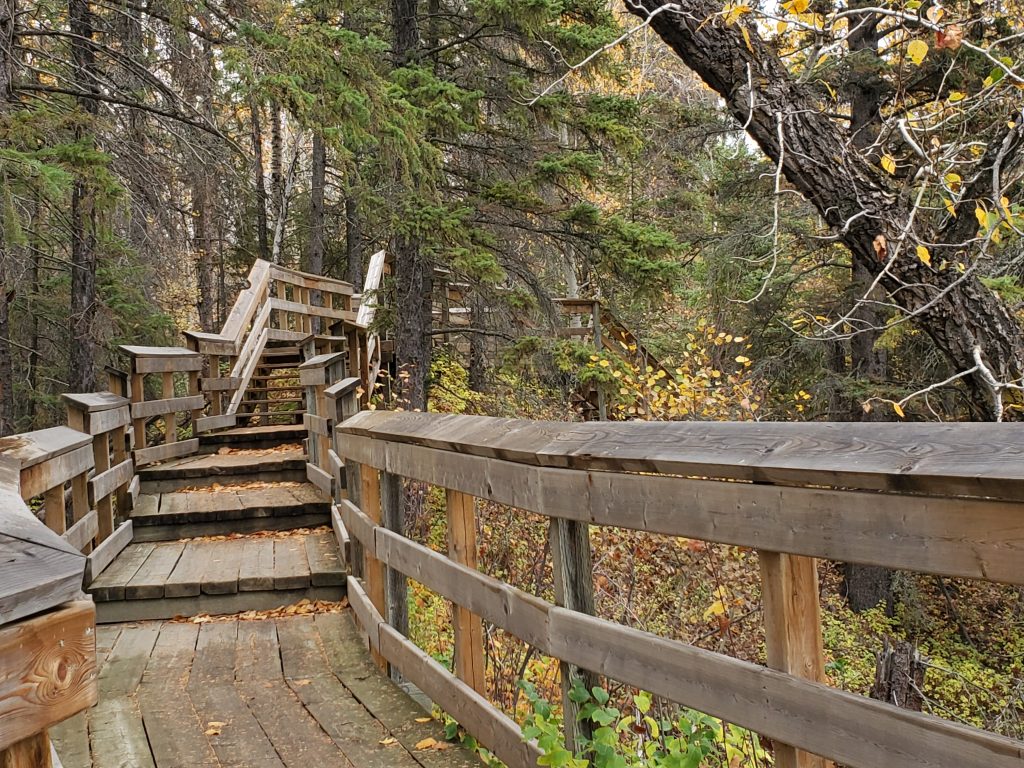 4.0 km trail with viewing deck by Kathryn Huedepohl
Alberta is a great place to live. It's a big beautiful province full of all kinds of natural wonders. This is where we introduce you to the diversity of wildlife, and unique and interesting wild spaces, that are part of your Big Alberta Backyard. This time, let's explore the Gaetz Lakes Sanctuary located in the city of Red Deer.
The Gaetz Lakes Sanctuary is in the Aspen Parkland region. It has four ecosystems in it: wetland, grassland, deciduous (poplar) forest, and coniferous (spruce) forest. It also has two unique lakes, which are what's left of an oxbow lake that formed when the Red Deer River curved through the land tens of thousands of years ago. That lake was cut in half by a landslide about 1,000 years ago, creating two lakes.
The west lake is fed by a creek, which makes the water rich in oxygen. It's a busy place for aquatic insects and birds, frogs, salamanders, muskrats, beavers, and moose in the warmer seasons. The lake also acts as a filter for water flowing into the Red Deer River, an important job for healthy ecosystems.
The east lake is fed by a mineralized spring. It has very little dissolved oxygen, so is used by animals for shelter or transportation. However, some very hardy snails do live there!
The forested habitats, open spaces, wetlands, and mineral springs allow unique plant communities to grow, including several kinds of orchids, primrose, and lady fern. These habitats also provide the food, water, and safe shelter that encourage many different kinds of animals to live here. Weasels, mink, and pine martens help keep waterfowl, songbird, and rodent populations in balance. Open fields provide cover for deer; hunting grounds for owls, hawks, and falcons; and nesting grounds for songbirds. The tree canopy is home to red squirrels, woodpeckers, nuthatches, chickadees, and other forest birds, providing food and protection from predators.
As with all land in North America, the first inhabitants here were First Nations people. It's likely they were members of what would eventually become the Blackfoot Confederacy. The land was used as a winter camp, giving protection from weather, and better access to forest-dwelling wildlife. This was the role the land played for humans until the late 19th century.
In the late 1800s, Catherine Gaetz and her son John Jost Gaetz homesteaded in the area. They left some of the land alone for the animals, and for people to enjoy nature. In 1924, they donated it to the government and it became Alberta's first Dominion Bird Sanctuary. A young naturalist, Edgar "Kerry" Wood, worked hard to protect the Sanctuary in the 1950s. Today, the Sanctuary is part of Waskasoo Park, and the Kerry Wood Nature Centre is its gateway.
The Sanctuary has almost 90,000 visitors every year. Families can walk or snowshoe the trails, do fun programs with a naturalist, watch wildlife, take pictures, or visit the Nature Centre's art gallery, store, exhibit, and playgrounds. It's a busy, happy place all year round.
Explore and investigate Gaetz Lakes Sanctuary with the 4 Ecosystem Scavenger Hunt, which you can download from our website: naturealberta.ca/4-ecosystem-scavenger-hunt. Search for different animals and features in each ecosystem!
Kathryn Huedepohl is the Program Lead for the Waskasoo Environmental Education Society at the Kerry Wood Nature Centre and Historic Fort Normandeau.
This article originally ran in Nature Alberta Magazine - Fall 2021.